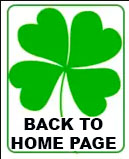 Good Luck in HOSPITAL
Do you know someone who's going into hospital for treatment?
An operation? A procedure?
Whether it serious or routine, it can be a scary time for every hospital patient.
For them it's a journey into the unknown, happening in unfamiliar suroundings.
For you its only natural to want to wish them Good Luck.
That's where our Real Four Leaf Clovers come into their own.



The four leaves of our clovers represent
It's 1 leaf for Love. 2 for Wealth. 3 for Health. 4 for Luck.
Everybody wants these but especially when they're facing a medical uncertancy.
You can't get them in the High Street but you can get them online from our 4 Leaf Clover Shop.
CLICK HERE to receive yours by next day post.
Now you can put a real four leaf clover in you "get well" card.