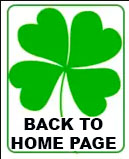 Good Luck for your WEDDING
Weddings are Wonderful! But yours will be Magical!
Be excited planning the best day of your life. Every little thoughtful detail matters.
Your hair, the clothes, the venue, the friends, the rings, the timing, the carriage, the banquet, the cake, the speaches, the music, the photography.
The list is seemingly endless.
But it all makes your perfect day, truely perfect. Just as you want it.
Its part of the fun that makes the occasion uniquely yours and very Special.



But dont forget the wedding favours?
The little gifts for guests to take home as a momentum of your happy, special day.
Our real four leaf clovers are perfect as wedding favours. Unique, pressed, preserverd, and real.
Each clover comes in its own personalised presentation gift folder.
Just email us with approx guest numbers and we'll offer you a proper discount (more than half price) for numbers over 25.
Thank you. And Good Luck on your wedding day.
Putting a Real Four Leaf Clover with every place setting. What a GOOD IDEA!



They're always appreciated by young and old alike.

Good Luck never goes out of fashion, is never the wrong size and is always wanted.